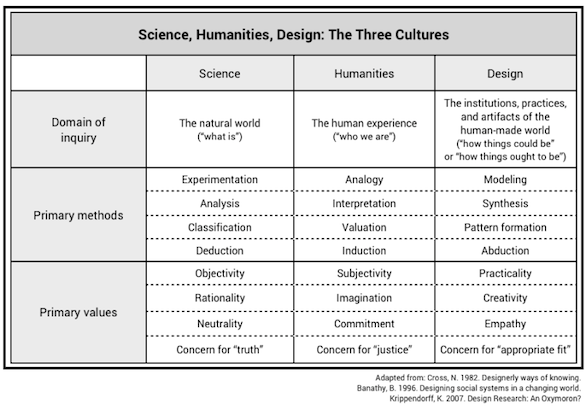 Are there designerly ways of knowing — distinct from the ways of the sciences and humanities? I've explored these questions in the writings of Béla Bánáthy and Nigel Cross, from whom I adapted the table above.
This re-drafted version of the "three cultures" table includes some recent thinking and one additional source, Klaus Krippendorff's "Design Research, an Oxymoron?"
Krippendorff proposes to understand design as "making sense of things (to others)."
From his "five activities that define human-centred design":
Designers invent or conceive possible futures, including its artefacts that they may be able to bring about, imaginable worlds that would not come about naturally. …
Designers need to know how desirable these futures are to those who might inhabit them, and whether they afford diverse communities the spaces they require to make a home in them. …
Designers experiment with what is variable or could be changed, in view of the opportunities that variability could open up for them and others. …
Designers work out realistic paths, plans to proceed towards desirable futures. …
Designers make proposals (of realistic paths) to those who could bring a design to fruition, to the stakeholders of a design.
See also: "Communication across discourse communities"